Battery-operated tools have come a long way since their inception, and with each new year comes new features and improvements over older models. Modern power tools are sleek, efficient, far more powerful than hand tools, and—best of all—there are now plenty of more accessible and cheaper options available specifically for homeowners, hobbyists, or DIYers. They're perfect for fixing things around the home or accomplishing a variety of other tasks.
However, now that the market has expanded, there is a veritable mountain of tool options. How do you find which one you need? Which power tools are the best? It's a time-consuming and mind-numbing process sifting through a giant sea of tools and their reviews (which may or may not be accurate). So, to save you some time, we created this guide to help sort through that mountain. We've taken the time to read reviews, compare features, and check the overall quality and usability of each tool.
Here are three of the top battery-operated power tools for 2020.
1. DeWalt 20V MAX Cordless Drill /Driver Kit, Brushless, ½-inch (DCD791D2)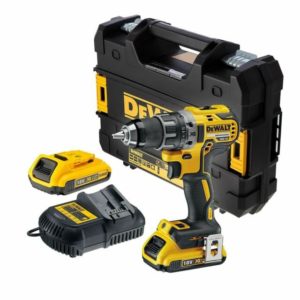 Though it was released in 2015, the DeWalt 20V MAX Cordless Drill DCD791D2 is still quite possibly the best compact battery-operated hand drill on the market. It has a total hard-torque of 620 in-lb and a soft-torque of around 239 in-lb. It's a lightweight, compact, brushless, firm gripping handle, and has a sturdy chuck. Despite being compact and lightweight, it still packs quite a punch in terms of performance and strength.
There are two downsides to this drill: the price and power output. While "expensive" is relative to your income, needs, and budget, we consider a $200 drill sort of expensive for the average homeowner. It's not worth it if you only plan to use it once a year or occasionally, but if you have some projects or repairs planned, it's a fantastic choice. Though the power is incredible, that can sometimes be a downside to this drill. Reportedly, if you hit a snag while going full bore, the drill has enough power to whip right out of your hand. For the most part, this isn't that big of a deal, but it is worth mentioning. Though, if you're careful and maintain a firm grip on the handle, this will likely never happen.
Overall, the DeWalt DCD791D2 is a well-rounded drill/driver combo suitable for many different applications. It's an excellent tool for both contractors and homeowners, making it our number one choice of the battery-operated power tool for 2020. It is a bit expensive considering it's only a single tool, but for anyone planning on using it for something substantial, it's worth every penny.
620 in-lb torque
Compact design
Lightweight
High-quality
Long-lasting battery
3-years warranty
Can whip out of your hand during use if not careful
Bit higher priced for a homeowner drill
2. Kobalt 24V Max Lithium-Ion ½-inch Cordless Brushless Drill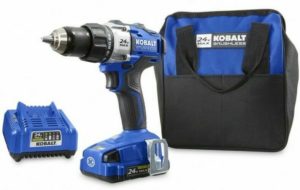 Kobalt is a well-known power tool brand with a history of quality, and the 24V Max Lithium-Ion ½-inch drill & driver is no exception. Though it is an older version, we chose this one because their newer drills are surprisingly lower-quality. It has 650 in-lbs of torque capability, a long-lasting battery, and two speed-ranges (0-550 RPM and 0-2,000 RPM). This drill is an excellent mid-range option if you're looking for something powerful but also on the cheaper end.
On the downside, while it is rare, this drill can sometimes come with defective parts, particularly the shaft between the chuck and the base of the drill head. However, Kobalt customer service is quite helpful, and they'll replace your unit with a brand new one if any problems should arise.
The drill comes with a battery, charger, belt clip, double-ended driver bit, bit holder, and soft carrying/storage case. If you do decide to grab the Kobalt drill, we highly recommend picking up Kobalt's 106-piece Power Tool Accessories Set (only around $44), which has a wide variety of useful black-oxide coated drill bits, drive bits, and adapters.
650 in-lb torque
Exceptionally durable
Lightweight
Long-lasting battery
Great value for the price
May receive defective unit (full replacement available, though)
3. KIMO 20V Cordless Drill/Driver with Impact Hammer Drill Set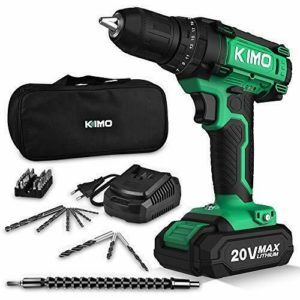 The last and cheapest drill on our list is the KIMO 20V Cordless Drill & Driver. KIMO has been making waves in the power tool market with its new line of high-quality and affordable products (mostly aimed at homeowners). The 2019 KIMO 20V Cordless Drill & Driver is an excellent and worthy new addition to the drill/driver market, coming into direct competition with other big names such as DeWalt and Milwaukee. It has a 330 in-lb torque, flexible drill shaft for tight spaces, it's lightweight, and has two-speed settings (0-350 RPM and 0-1350 RPM). It's powerful enough to cut through metal or wood and drill through bricks and stone. It comes with a battery, charger, carrying case, 33 screw-driving bits, six twist drill bits, and three brad point bits
Overall, the KIMO 20V is an excellent choice for around the home use. It's versatile and capable of handling most drilling and driving situations (outside of heavy-duty work). It isn't the strongest drill-drive tool on the market, but it's more than suitable for daily use.
Perfect for homeowner or DIY use
330 in-lb torque
Lightweight
Quality material
Fast charger
2-years warranty
Excellent price-point
If you would like to know more about these battery-operated drills just drop a message on our contact page.